The slick has been a stalwart of my tri fin range for more than half a decade and has seen its competitors trending fatter and wider- so it is time now for the slick to indulge and put on a few litres as well.
The rocker of the Slick has been my most curvy and lights up in hollow power and subsequently I have always maintained that if you have a good rocker- don't mess with it, unless you want to change the DNA of the particular design.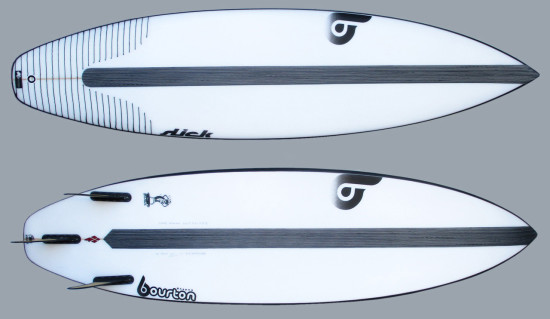 The Slick's performance rocker is supported by a deepish single double concave that has worked well in unison. This I have not changed!
What I have changed is the width and thickness and widened the nose a little more disproportionally. I have made the tail wider and a little more thumbish and caved into using future fins for that little more ping from minimal fin base roll during high pressure turns. In effect the new Slick will encourage those who want to go shorter with a high performance design – to do so.

GLASSING
Previously the Slick was marketed as a lightweight in the range sporting only a 4×4 diagonal glass job backed up by a 4 ply stringer. This time around I am using innegra strips top and bottom sitting underneath a single 4oz diagonal top and bottom. The innegra is a white glass and would not be visible unless it sits over a darker colour.

In the pics supplied I have a black sprayed strip to high light the white strands. This glass job is optional and really only for those who don't mind a few deck dents, but do not want any breaks.
DIMENSIONS
5.8 X 18 3/8 X 2 5/16 = 25.16 LITRES
5.10 X 18 ½ X 2 5/16 = 26 LITRES
6.0 X 18 ¾ X 2 3/8 = 27.61 LITRES
6.2 X 19 X 2 7/16 = 30 LITRES
6.4 X 19 ¼ X 2 ½ = 32 .15 LITRES
6.6 X 19 ½ X 2 9/16 = 34.18 LITRES
———————————————————————
Hi Murray
Just a note to say it took me a while to get the feel of the new board but am totally stoked on it! Just had 3 weeks in panama Costa Rica and the US ..heaps of good waves and the board goes like a dream! Was a slick 6'2
Thanks heaps!
Cheers
Matt
————————————–
Hey Muz,
Heres my rundown.
Let me know what you think…
The Slick:
I've been on Murrays newest model 'The Slick' now for the last few months
and have learnt a lot about the board in this time.
I was a bit hesitant at first going from my HPL to The Slick however i was
kicking myself for not making the transition sooner after just a few surfs
on it.
I've ridden this board from waves between 1-6ft and it hasn't let me down.
Holding tight in the pocket it has allowed me to really open up on my carves
and to feel comfortable pushing extensively through my snaps knowing that
this board will squirt quickly off the top which in turn has helped me to
attack the next section of the wave hard. This has been particularly
important in the wallier waves of Victoria where i have needed to turn hard
and fast to maintain down the line speed.
The extra flip in the nose and tail of the board is perfect for those
steeper waves were a later take off is required or when projecting out of a
top turn in a hollow section. It really pivots hard off its curvy plan shape
and will release when you want but hold when required to. The deep concave
has also been a massive a help in holding and generating speed and it has
allowed me to hop from one section to another with relative ease.
In conclusion this board has been a hit in my eyes and i look forward to
riding it more and learning more about it.
Todd Rosewall
—————————————————
Hey Murray it's Tim here
My Dads been at me because I haven't given you any feedback for the 5.8 slick you shaped for me; so even though it's a few months late, here it is:
First few times on it I could barely turn or pick up speed because the sweet spot on the board isn't as pronounced as on my previous quad.
However after about a month I had the board dialled in and I really like what you have done with it.
The extra rocker through the board makes late take offs and hard bottom turns feel super natural as the board fits in with the wave real well.
I think the pronounced hip in the board has given it a much tighter turner circle then any off my previous boards. It also seems to pivot off the tail which makes it feel real snappy and fast
The massive single concave in the board seem to give it loads of speed. I'd say it's as fast as my quad fin you made me, albeit a little slower off the mark
I'd say I like the feeling off a thruster much more then that off a quad as it seems to give me more freedom on the wave; you can sit deeper in the pocket without the board wanting to run down the line as my last quad fin did which means iv been getting way more barrels haha, bottom turns feel way more natural and the board doesn't fight them.
Overall it's the best board I've ever ridden, so thanks a lot
Tim  Macmanus