MUZZAS M.0. And The Custom Order Process
Having spent ½ of my life on a surf shop floor flogging fiberglass and foam I am having trouble getting that one to one thing out of my system. For one it is the only real way to achieve custom success particularly for those who feel they need help and are seeking out someone who will listen. From my experience in this field, I have concluded that one man's trash is another's treasure, in fact most things work if they are matched to the right person. That is where the importance of communication comes in.
In the past I have managed this on the floor but these days I have discovered it is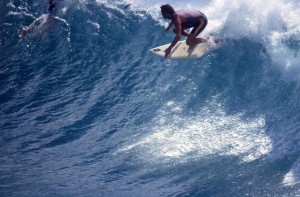 just as easy if not more conclusive on line. With the use of the new CAD drawing programs the customer can gauge the math in the design rather than simply hugging the board on the floor. The huggers in time will learn to trust the math particularly when they observe the results of those that already have.
For those that are inclined to trust the maths, there are a few questions that I will ask of you before I can give you any educated advice. No matter how well designed, a custom will not succeed if the volumes are wrong. The tricky thing here is; there is no mathematical weight to volume ratio for a surfer because of- for one the variety of skill levels out there, different type of waves surfed and the variety of age groups and attitudes that are influenced by marketing.

Click Here To See DEMO PDF of The Silver Bullet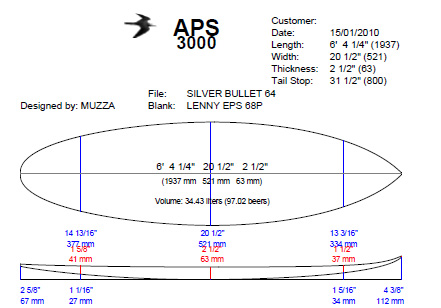 To solve this problem a designer needs to know the volumes you are currently dealing with and your opinion on their efficiencies. He also needs to know if you have other boards, and what they are as well, and where the new one is meant to fit. There seems to be 3 current general categories of late: Small wave fish Go To and Step Up. If the desired category is clear then half the problem is solved. There are many that want an all-rounder which in reality, particularly in this specialized world, will end up with a" Jack of All" but a" Master of None".
If a first time customer has come to me, I figure he has for a reason; so he may select a model from my range (of which he has probably already studied on line) and have it more customized to suit. You will be sent a PDF of the design illustrating measured rockers, plan shape and slices displaying lateral cross sections such as concaves, deck rolls and rail shapes. This method has evolved over the last 5 years and now it seems many customers are owning their designs, that is to say they are suggesting the level of tweak for their next board since they totally understand the measurements of their current board, and to be honest, because they have been the only one that has surfed this board, I will listen harder to them than I expect them to listen to me. I guess, I am the mechanic; if they want the board to go faster- I will play with the carburettor, if they want the board to paddle better- I will know how much I have to pump up the tyres, if they want more pivot- I will take away one of the wheels etc. etc.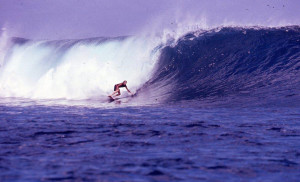 To make things work smoothly and in order, if you want the best from me you would be advised to send me this infor mation first so I do not need to ask these questions .
1. Height and weight
2. Age and years of surfing
4. Where you surf
5. Dimensions of current board, and short mention of volume suitability
6. Also brief mention of other relevant boards you have.
7. Category of your order i.e. Small wave fish, Go To, Step up or all-rounder.
8. Your cell number
After you send this to me you will receive a response within a day and if need be a call on your cell to discuss all the details. Once a board has been designed a PDF will be sent so you can visually see all the facets, plan shape, rocker and 3 cross sections to verify the rail thickness, deck shape and bottom contours.
From this point you will decide whether to press the GO button.
—————————————–
Hi Murray
 I love your MO – don't change
 I'm in VIC, but you still take the time to speak with me about each custom
I was referred to you from a friend, and in-turn I have put a friend on to you, and we are all happy
Keep up the great work.
Kind regards
Simon Durkin
————————————————
Murray
Don't change anything about your accessibility to the common man.  I bought a Quad from you a couple of years ago and appreciated your personal response and advice, including a pdf of the design sent via email.  Hopefully I will be discussing a new quad with you before June.
Regards
Jeff Charteris
————————————————
 Muzz,
In short……i have had 3 boards from you in 12 months (round tail quads….yes i am a convert!)  The custom approach and "service" that i have recieved have been worth every cent.  The boards have all been fantastic, however the service has made it all the better as i know i am getting a board that will work for me & the waves i am surfing.  Please keep up the custom approach, being able to see a design before its created gives me the cusomer a sense that input is taken on board and applied to the design.
Am looking forwards to seeing the next innovative design!
Regards
Nick Mackenzie
————————————————
Hey mate
Love the personal approach over email. I was blown away when I recieved an email from you asking how my board went. It's like when you buy a Mercadies Benz, they ring and ask if it is going ok.  I do the same with my retailers, and ring them and ask how the product sell through is.  I'm sure you can set it up so that it happens almost automatically too.
Emails need more logos, links and graphics, so that people then go direct to the website.
Best regards
CARLO Lowdon
 ————————————————
Hi Murray,
 I know that some individuals have not been supportive of the whole machine board making process, however I find the idea and subsequent potential for quite accurate board replication over time one of the main benefits of your service.  I am starting to think that this is one of the main things that has made me come back to you rather than using the local shapers in town. However this would be lost without your communication skills and effort you put into talking to the customer.  The E-commerce thing sound no different to walking into a surfboard shop and buying a board of the rack. Your brief conversation and PDF documents you send, and you putting input into size and dimension has been an important aspect for me, particularly initially. Now I have ridden a couple of your boards I am able to give more input on where I want to go next.

I think the other part of your service that I have enjoyed is the large variety in your board collection, and I have always responded to more experienced individuals. Your fish and fun boards can be quite different to what is already on the market, however your experience allows you to almost justify each aspect of the board in a scientific or evidence based way. This is somewhat different to many of the other shapers that you come across.

I think the service you are providing is really targeting probably the largest surfboard market out there. I am a relatively proficient surfer that surfs 2-5 times a week, who can probably afford to buy a couple of boards a year and enjoys gradually refining his basic thrusters, but also likes to ride a slightly shorter, thicker board with a few quirky aspects. On the other side, I suspect that if I asked you, you would be able to do me up a nice little single fin also.
Regards
Todd Teakle
————————————————
Muzz,
 I'm on my 4th Bourton in as many years and looking at a new Reef Swallow
In short, your Modis Operandi works for the following reasons.
1. The process up-schools the hydra-dynamic knowledge of surfboard design for us, the client. Working thru the tweaking process, we are able to pick up info that we have a lifetime interest in  – how these bloody things work in the water. In short, we are able to go to school on you and 30 years of surfboard design.
2. The precision in the overall design process – from the computer aided design, the discussed performance parameters to the robotic shaping bay interpretation of the design. For example, my first High Performance Lightweight (HPL) I snapped in a twisting beach break. The board was a cracker, so I re-ordered the exact same design, but with two 4's on the deck and one on the bottom. The replacement was spit identical, not just the plan shape, but the volume, rocker, nose lift, undercarriage, railing, deck roll, everything – stoked!
3. The visibility and confidence in the whole process – from the CAD drawings (PDF's) you can visually see your boards specifications and the nominal critical measurements. Seeing is believing and it allows you the client, an opportunity to get up close and personal. It puts you in the shaping bay! What you don't see are the muzza tweaks – like a rolled deck, dropped railing and the undercarriage gradients. Most importantly, every design is a personalized interpretation cross referenced against a proven Bourton Design. The end result is that you have high-level confidence that you will get what you expect and have visualized prior.
4. Up close and personal (and a tribute to volume) – For me, the most critical performance measurement when ordering a board is volume – you can only get this measurement from a Muzz CAD design. Volume is critical to paddleability, wave entry and release from the wave. Too much volume and you cannot bury the rail enough or the board feels like a boat with little connection between your feet and the water, too less and your languishing behind on all fronts – you got to get it right. Here's a good case study in point.
The design process for my latest Bourton 6'5 Brooko MkII. A recent back injury, the onset of age and an extra 2-3 kg's means I've lost a little agility and seconds at the critical moment – the take-off. Also, my previous board is not paddling as well as I'd like – I'm tiring, it's not releasing quick enough from the wave at entry and I'm getting caught too often in a pitching lip – and I'm probably not feet positioned perfect either! Ummmm – better have a chat to Muzz!

So we pull out something to benchmark against – my last 6'6' Bourton HPL design.
We chat about want I want to achieve, paddle-ability, wave entry and release. I'm not concerned about on-wave performance  – It's a proven Bourton design – it'll do loop the loop!
First thing I look at is the volume. The HPL was 29 litres, and my fighting weight back then was 74-75 kg (and lower). I'm now 77-78 kg, so I want to add about 6% more board volume. I'm already sold on a Brooko Quad (having already done my homework), so we start tweaking. Muzz suggests we lower the nose lift a tad – for easier entry. The 'extra' volume we'll put under my chest forward of centre. I give muzz the go-ahead to tweak everything else according to the stated objectives.
So I get the CAD drawing (PDF) back with all the critical measurements. I get the calculator out. Overall, the board is 6% up on volume (relative to the HPL), minus 3% on tail rocker (good for entry), plus 8% on tail thickness (at 12inches)-Yep!, plus 7% at midway thickness (now at 2 ½ inches – but with a rolled deck) – extra floatation, plus 21% at the nose measurement (at 12 inches) – unreal!, minus 3% on nose lift – good. Dimensions: 6'5' x 19 ½ x 2 ½ Brooko Quad round tail. In theory, a paddling, easy wave entry, early take-off water rocket. Now for the pudding!
I pick up the board at Base Torquay for a try-out in 2-4 ft cruddy Winki. Under arm it's exactly how I visualized. Under foot – it's a bloody revelation! Winki was encouraging, but at a Woolamai beachbreak I caught 30 quality waves in one session and ripped'em like a 27 year old. At Powlett, I was getting in super early and downface before the lip pitch, at the Black Reef I'm rocketing downface pre-bowl maybe 1-2 seconds earlier. This board has turned the clock back 10 years.
Oh yeah, I'm a board breaker (and off to the Mentawaii's) so I discussed that with Muzz as well, so we go for a 4x4x4x4 with a 5-ply stringer. Now you might struggle with this one, but I weigh all my boards. This one came in at 3.4 kg including 150-200 grams of fins. I can tell you that's impressive. From memory the 6'6"HPL with 4×4 Pro-specs was 2.7 kg and the 6'6" 4x4x4 HPL was 3.2 kg.
So there you go – I've become a tragic amateur surfboard designing technocrat from the School of Bourton – still works for me!
 ————————————————
Murray,
I have gone through a couple of your boards in the great SW over the last 3 weeks, (not having a dig about quality I was in the wrong place at the wrong time, I actually love the diagonal glass jobs). I was thinking it may be time to order more shortly.

 Firstly on the boards. I have had and still have many of your boards over the years, some custom and some off the rack.  I have nothing but great reviews on each board I have received from you with no duds to report. At the moment I am just riding a standard 6'2" squash and a 6'0" round tail Quad and both are going sick. I could write for hours about each boards attributes that I have but you could look at them and tell me anyway. I also have to do some work as well at some stage.

I myself would always deal direct with yourself as I have in the past either by phone or in person. I guess I just like to shoot the breeze sometimes. This being said it was great to receive PDF files before the board was shaped to check things out then speak to you again before you shaped, so I do love the new technology. It was great to catch up with you in the Coolly shop when I was over in September and talk shit (we get over each year and pick up a board or 2).
Anyway I had better go and do some work, if you need any further thoughts please let me know. Enjoy and get some waves for me.
Cheers,
Paul Newell
————————————————
Thanks Muz
I reckon your on the right track. I like that you are on line every day/night and can respond quickly to questions etc. You recently sent me a 66 skinny and it is great. it was good to speak with you about the shapes etc before i ordered. I was impressed with its packaging and safe arrival!!
 Thanks Muz
Kind regards
Sam Pentelow
———————————–
Hey Muzz
I purchased a Fat Bullet of you recently via email. Very quick and easy purchase with the proposed templates coming through on PDF very promptly. From memory you even did it for me when you were overseas.  After trusting what you could do for me and match what I wanted in an everyday board. I now have been riding it for the last 6 months and to honest I did not know what to think after my first couple of sessions. Especially when for some reason compared with all other boards the hardest thing I found was to sit on it out the back, weird. It's my first quad I've owned and now that I have a feel for it (sitting on included), I'd have to say your on to a goodn.  It's drivey in the front and loose and flirty in the back – just the way you want your missus after a few…
Kind Regards
Trent Livingstone
————————————————
Murray,
I've been really happy with the 3 customs you have done for me in the last couple of years, and just as happy with 3 off the rack boards of yours. They have really injected a new joy into my surfing, and i've had them the  a few classic waves around the world. I'm a Quad freak now, and i can't go back.  I totally appreciated the time you took to discuss the customs on the phone and a few last minute tweaks by email. The IT made it a lot easier for me as i ordered a couple of those boards from overseas, during work stints.  The boards were beautiful. Perfect, hard as nails, sharp edged glass jobs. Especially a 6'5″ channel quad you made. I reckon i'll have it for years, and it fucking wails!!! 
Thanks for some great boards and customer service.
Cheers,
Simon Russ
————————————————