THE LEDGE TAMER

Murray Bourton is no stranger to the power of reef breaks all around the world and is under no illusion what constitutes good design for such waves. Off the back of his recent success with the Reef Swallow, Muzz has come up with another idea that may interest some of those maniacs who relish the drop, in the gnarliest waves that can be found.
In the last few years some reef breaks that were previously considered  wilful suicide, have now been challenged, particularly by those who are not only very talented but also have as a commonality, a rather large scrotum and unusually small brain. Nevertheless I see them as a market, albeit a rather small one, and perhaps only a temporary one at that; due to the inevitable tally that these type of waves will take!
To describe these waves that are much sort after by these maniacs- one word comes to mind ;"ledge". Basically short sharp and friken dangerous! Like I said, in the past we checked them, romanced them, and then moved on. The ever increasing crowds and general improvement in surfing skills, combined with a media coliseum mentality-and the result is an avalanche of wanna be's being pole driven onto bark hungry coral laced benches. Besides being a growth market for travel insurance brokers I see it as a design challenge similar to the new design concepts necessary for tow in boards when they were first introduced.
Because most of the waves challenged are big peaks that lurch up and pound down in an instant, longer guns are too slow to rail. These board need to be short so they can be put onto rail in a micro second, yet they still need to paddle in early. To obtain this facility on a short board the nose entry has to be low and the widest point moved forward fitting under the chest (the heaviest part of the body). Consequently the tail needs to be pulled in so it has every chance of clinging high on the face when necessary. A swallowtail will also encourage this facility. I have also employed quite a deep concave through the belly of the board which also encourages bight up high as well as giving the board a fifth gear.



Having such a low nose entry can be precarious when launching into a square bottom (the result of water drawing off a bench) but by lifting the tail rocker up one can lift the nose from the tail once he is on his feet. The extra tail rocker also gives the board instant whip on rail in the very little time available. To increase the profile rail line into the tail I have dropped in a sudden short vee out the tail which in two ways helps the board turn in tight situations because of the extra rail profile curve and reduced tail pressure subdued by the vee. The vee due to its help in reducing tail pressure allows the surfer to surf a little further forward particularly when in quad mode – quite an advantage when trying to squeeze out of a barrel up high. The tamer is a five finner that can be comfortably ridden as a thruster in the more peaky ledges (due to the narrower tail) and as a quad in the longer walled reef waves that need to be raced.
The Tamer is shorter than you would normally ride because it is wider and thicker(particularly forward of centre) than your normal go to board and this modification offers early entry uncommon in such a short board. The shortness allows one to get on with his gig right from the start as most of these waves are over in a blink of an eye.
The Ledge tamer will come with a specialized glass job so it can continually survive in the lion's den. The lamination will be a double diagonal glass job combined with a 2 inch carbon strip running central on top of the stringer from nose to tail top and bottom. The swallows will be reinforced with a stronger denser carbon to keep them in shape through all sorts of reef and aeroplane damage. This board will have a tad more weight which in most of these conditions will be actually an advantage, however to achieve the same strength by glassing traditionally the board would end up twice as heavy – not so with this robust little model.
THE RANGE
5.8 X 18 ¾ X 2 3/8
5.10 X 18 7/8 X 2 7/16
6.0 X 19 X 2 7/16
6.2 X 19 ¼ X 2 1/2
6.4 X 19 ½ X 2 9 /16
—————————————————-
Hey Muzz ,
Just a quick thank u on tha 6'8 Tamer the board goes unreal, with more paddle and reach off the bottom as per the mo we talked about.. It comes off the bottom pretty much as quick to vertical as the 6'3 model which was a good suprise and just as easy to lay on rail,, with only a slightly wider cut back as expected from a bit longer board ..thanx again
Regards Mick
Ps keep up the great work , cheers
——————————————————–
Hi Murray,
been smallish compared to usual round here riding my diverse corktop 5'4'' which looks exactly like your can opener!!! Too much fun… but got a swell yesterday and my tamer got out. Good 6ft at a left legde scary waves really but pretty bloody good tubes!!! The board was solid and once pointed into em behaved really well. Strange feeling on it like a gun feel .It knows where to go and your really are just along for the ride… like a passenger. Claws into em alright and made almost every take-off so good success rate. (mind you am 44 so just getting medium noice ones and trying not to get hurt) You were right the 5'9'' 1s a great size and felt very safe and stable …just right really! Stoked to heed your advice on the phone.
Been enjoying your website and your choice of boards is second to none, I thought I liked talking boards but you are the master frother on da subject and your great at explaining new trends and functions of the new toys… love it mate!!!
Very specific board and instills confidence on those waves so cheers boss can't wait for the coming groundswells and take her up north in winter. About fins, Im using quad " fin solutions ''#5 and your big wave mini keel … does that sound right? very tight setup big engine room!!
Regards
Mike bosich from margs
————————
Subject: The taming of the ledge.
FINALLY! Happy to say that this morning Straddie provided a few opportunities to test the vertical descent capabilities of my new board. My last wave was an angry wind affected four foot nasty peak that had 'pearl' written all over it. BUT the LT stuck to the face like a two year old with a toffee apple and I slid effortlessly down the face and around the corner. I cant wait to give it another go in some 'clean' conditions. I also think I need to find some H2's to sort out the fin feel, don't like the Simon fins on the side. Anyway thanks mate, it will be a great board and allow me to fall successfully into some Straddie moments. I hope to order a new Fanger soon but as usual, $$$$$$ needs to be sorted. Cheers matey.
Greg Kenafake
—————————————————-
Hi muzz,
I reckon most to all of your customers appreciate your MO. Certainly will retain me as long as the boards keep up.
Just a quick one. Took the ledge tamer to gland last week and scored 2 good size swells. I was curious about the ledge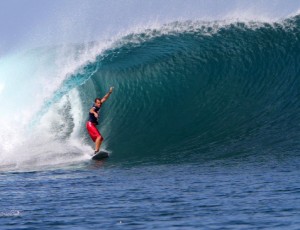 and although I took other boards it was pretty much all I rode. Had a few comments that I scratched onto waves that people thought I had no chance and a few admiring looks at the tail rocker.
The board flew and this photo is the start of a long barrel sequence which was probably wave of my life. Great thing was I have about 20 of these sequences of which I made about 85% out of long speedies barrels.   I walked away with not a bump on ding on the board after a few thrashings. 
 The glass is strong. Overall stoked so thanks. I reckon I have a few ideas for my next board down the line. This is pretty much spot on for the fast pitching waves.   Tried quad and thruster setup. Quad with the keel wins in my books but thruster gives a little more top to bottom. Overall perfect for me need. Not all waves covered with this but perfect for the brief we spoke about.
 Many thanks.
Dan
—————————————————-
Hi Muzz,
Amongst my quiver to my first of two Mentawai trips this year were two Reef swallows. The 6'5'' became my board of choice. Awesome speed down the line but the pulled in swallow and extra tail lift really stuck the late Indo drops. Muzz and I had a chat about that success but also about the sorts of waves everyone was everyone was starting to surf now, those late heavy barrelling takeoffs.
You need paddle power but if you go with extra length it means you tend to miss the barrel. I surf a wave at home which presents the same problem. Now I am no gun but I do like a late drop and a tube. After some R&D with Muzz we came up with a shortened up model based on the reef swallow and called it the Ledge Tamer.
I gave it a run and my second Mentawai trip and bugger me if it didn't do all the things we planned for, great paddle power for late drops and stuck in the tube. Muzz included a five fin setup and I am still deciding which I prefer best but that versatility certainly increased the types of waves I could surf it in.
As a three fin setup it works really well in the ledge I surf here in Victoria. As I said I certainly ain't no gun and I am closer to the finish line than the start but I can throw my bag of bones over the edge on the 6'2'' version and still get kegged. My Ledge Tamer will certainly be in the board bag for Sumba next week and West Papua next month.
Mal