Back in 71 I can recall quite clearly the first custom order I did for a good friend by the name of Gary Hillier; the brother of the guy who taught me how to use a planer- Ross Hillier. That first one to one experience, even that early in the peace: delivered an appreciation that went both ways, and I think encouraged me to always respect the customer's wishes. When I was just a kid before my teens I worked in my old man's shop in South Western Victoria in the early sixties where I basically learnt that in a small town like this  you could ill afford to burn you're clientele, and if you did:  you would have none left at the end of the day. In this era of the World Wide Web the internet has shrunk the world down to the same small town type communication where personal relationships can develop and where trust has to be a compulsory ingredient.
Gary liked the board I made him, but he liked the next one better, and the next even more. That was back in the day but to be honest nothing much has changed with my MO. I think these days the expectation of a product is pinned too deeply to the brand reputation or the rep of the shaper and many that would like to speak directly to a world renowned shaper simply cannot engage because the shaper is on another planet with all his pros.. Of course there are many that will never get close to the shaper they want simply because they aim to high.
I know it is a different world, but it's been a different world for a while now and I still see a lot of disconnect with the end user who in most cases has only a retailer to express his concerns to. My M.O. thanks to the internet stipulates there should be no disconnect and the end user should have the opportunity to air his concerns besides just offering up his height, weight and experience.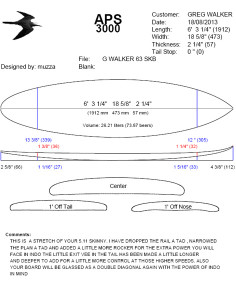 I hear now there is a website out there now getting people excited about a program that will tell you what you should be riding by offering not much more than the above. If this gets off the ground it will be a sad day in my little world where a little chip and a processor can replace human banter on such a personally prized piece of sporting equipment. Perhaps my point should be that we do not need to embrace modern technology just for the sake of it.  I actually went on the Fire website to try out the old board calculator for myself- just to see if it had any idea.
I was extremely honest and gave it my correct weight, height, age, and even the colour of my shit! After some electronic deliberation it came back suggesting all would be lost if I dare mount anything shorter than a 6.10 x 21 x 3" thick chunker? Currently I am riding a little 5.9 EPS fish and I still find myself getting quota out at the most crowded points in the world. I am glad I did not fork out for some IT nerd to put one of those things up on my site- I think my phone number will suffice. The custom order process has come a long way since 1971 but in essence is basically the same minus the pressing of the flesh.
Thanks to technology all the things we would do with a customer face to face we can do PC to PC and perhaps with a little more accuracy than before.  I have been honing my on line method the last 6 years and happy to say that I have reached the fail safe level. Basically I have more or less a 10 step procedure to go through before I start ploughing, or should I say smoothing. Some customers get a bit impatient with my questions but in the end they get the benefits.
1. First of all I need to know the customers body stats, right down to the size of his feet. Also his age, how long he has been surfing and where he surfs mostly.
2. Perhaps one of the most important things of all for a shaper asked to improve a guy's surfing- is to know exactly what the hell he has been riding all this time. The more accurate info I get on this topic the more chance I will have making that improvement. Equally as important I need to know what he actually thinks of the board in both the paddling and performance departments. Mostly this will be negative stuff but the positive stuff is just as important.
3. Most surfers these days have multiple boards mostly for different sized waves. I also then need to know where this board is meant to fit .I can help with this if I also know the dimensions of these other boards. The basic quiver these days is some sort of fish, a go to (every day board) and a step up for biggish waves, so the purpose of the new custom is essential info.
4. The next step is to select a model of their leaning that is on my site. This decision is the most important one in the process because these days there are a lot of choices out there and there is now a lot of confusion. This is where I want to do the one on one on the blower because there really needs to be a lot thrown around here. This can become a tedious exchange if email is the only method available.
5. Once this process is sorted and a model and some customization is agreed upon, a PDF will be sent to the customer via email that illustrates the new design in 3 facets. Firstly it will display the outline with all the important plan shape measurements i.e. the width of the widest point and the width of the tail 12" up and the width of the nose 12" down. These have been the basic measurements of surfboard outlines from day one and every surfer should be aware of their own board's measurements in this category. Secondly the PDF will illustrate the stringer profile which is the thickness of the board at the centre line from nose to tail. Nose lifts, tail lifts and various thicknesses' in from the ends are given- a bit technical but again valuable info for a board that is meant to do the job. The last facet shown is the slices of the board.
This is where you get to look at your rail shape, your deck roll and your bottom shapes with vees or concaves etc. These slices are again done at the same positions as the plan shape where you have one for the centre and 2 others for the 12" up mark and the 12" down mark. Above all this PDF design will give you the overall foam litres of the shape which these days has become a very valuable tool. With this number however, one would do well to remember that the hydrodynamic curves and surface area positions also have a great bearing on paddle ability; so one must not go by the literage figure 100%.
6. The Custmised PDF ( See GWALKER 63 Custom Demo HERE ) is sent to the customer for visual reference of the idea discussed. At this point the customer can sign off on the design or indeed be a part of tweaking it further. Again I must emphasise that this is the most critical stage of the process and it pays off to be sure you have this right coz there is no turning back once the machine is turned on.
7. Once the design has been finalized a discussion is needed for the laminating. Knowing what sort of glass you have been using is invaluable, but most have no idea because they are never told. All my boards have the glassing numbers written on for future reference. Everybody punishes a board in their own individual way and they will always repeat with the same punishment so to get a handle on what you have you can always improve it with the next board.
8. Fin systems these days also warrant some deep discussion since there are so many on the market. Primarily I use FCS, Future and Power base of which there are pros on cons for all of them. The fin prices do vary with standards and upgrade glass fins so if you have anything in mind it needs to be brought to the table.
9.When the details on all this are in I will send back a written quote with an ETA. The customer then agrees to the proposal (normally) and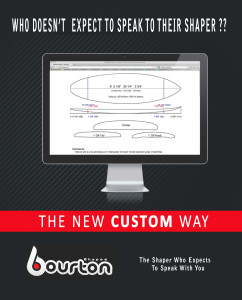 then we discuss the necessity of deposits and payment methods.
10. Once agreed I turn on the machine and wait patiently for it to come out the other end…and we're off and running
I guess the point of all this is really to give the customer some REAL service for the price he is expected to pay, moreover to make the customer a little more aware of the science that goes into that piece of foam under his feet. The PDF design gives you the real numbers and after all, that is what a shape is: a bunch of numbers. Understand the numbers and you are past half way. I have guys now that having embraced this info, are now customizing their designs themselves basically relegating me from designer to finish shaper.
After all they are the people that stand on my designs and surf them so who better at the steering wheel, I say! Everybody surfs differently so it is my belief the everyday surfer should learn more about what works for him and equally as important what does not work for him, by having full knowledge of the numbers . I guess at the end of the day there will be those that will only allow themselves the touch and feel method in retail stores, but for those who want more certainty with future boards I do not think you can go past my MO.
Muzz
———————————————————————–
Subject: Lochie Moate
Gday Muz, my name is Lochie Moate and you shaped me 2 copy boards mid year. They were a 5`11 and a 6`1 you shaped for me in 2012. After a challenging last 6 months not surfing as much I hadn't used the boards at all. I recently had 12 days at Lakey peak to getaway an finally use the new boards.
Overall I was really impressed with the performance of both and also noticed small differences to there copy counterparts. All differences i surpisingly found were improvements and positve components of how the boards felt. I usually surf the 5`11 and I've noticed small areas of slight change from the previous copy u made for me. Such as shape, thickness and volume of the rails and less rocker in the nose for waves at home.
Now back in juc and finally some decent sw swell the true results of the new boards are regaining a new passion for surfing as much as I can and getting up for the early session. The. 6`1 in 4-6 is my bread and butter haha. Thanks again for quality surfboards and making me enjoy and improve my surfing.
Cheers
Lochie Moate
—————————————————————
Hey Muzz
first surf today on the new 6'3 silver bullet! Maybe you saw the Rip Curl Pro today, glassy 6 foot at Bells… I headed to a smaller spot not too far away, clean 3-4foot waves. A bit crowded, but cought a couple nice ones. Board does exactly what it should: it's still easy to paddle, fast on take-off but more nimble and manoeuvrable than my 6'6 fat bullet. Still feels on rails, really solid when doing a bottom turn. I think we found the perfect compromise between a good wave catcher and more manoeuvrability. In short, I'm stoked and looking forward to progressing my surfing with the new board, in the same way I did when I got the last bullet a few years ago! Thanks again, the whole process was uncomplicated, fast and the board is exactly what I was after!
Xavier