The Silver Bullet was created back in 2009 and  has become my best seller. Due to its popularity I gave this little baby a face lift a while back. The Silver was born from the need for a thinner narrower Fat Bullet which was the first Bullet hatched whicht was aimed specifically at the heavier guy who wanted to go  short with confidence. The Fat Bullet had a flat deck with a soft stepped down rail and the Silver was similar although slightly more rolled on the deck.


I  kept all the same dimensions but rolled the deck down even more to a more performance type rail to make it more appealing to those above average rippers who previously would have passed this design up as something too left field. The planshape has also received a makeover with a little more area forward and back to add a tad more balance.
Have a listen here  to  "The Hogs" breakdown of the board and see it in action.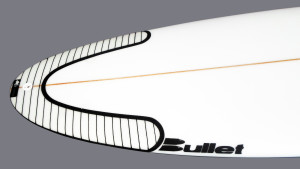 The bottom shape and rocker has remained the same as have the fin positions.
The centre tail plugs are positioned for the mini Keel not for a thruster application, however there are some that ride this model as a thruster and swear by it. I have designed a carbon tail wrap that also protects the fin plugs on the deck as well as the bottom edges. The 6 oz carbon stripped glass creates a solid frame around the tail that will protect the integrity of the most important part of the board. This will come as an extra as it needs to be pin lined to keep it tidy, but well worth the extra strength it delivers. The Silver Bullets tail is quite fine compared to many other models so some form of extra strength is advisable. I have added a few more lengths to the range as well, due to demand. Going shorter or longer than these new additions would basically water down the DNA of the design.

Also off the back of the success of the diagonal lightweights I have also decided to go with this system  on the Silver Bullet in my stock models. I have used a different form of Carbon to give this model a point of difference which runs right down and around the roundtail doubling up as a tip protector.  All in all I am expecting the "Silver" to be the dominant Bullet this year as more customers come on line with the quad concept for either small or medium sized waves.
DIMENSIONS
5.8 x 19 ½ x 2 ¼            = 26.76 Lts
5.10 X 19 ¾ X 2 5/16     =  28.4 Lts
6.0 x 20 x 2 3/8              =  30.86  Lts
6.2 x 20 ¼ x 2 7/16        =  32.64 Lts
6.4 x 20 ½ x 2 ½            =  34.7 Lts
6.6 x 20 ¾ x 2 9/16        =  36.64  Lts
6.8 x 21 x 2 5/8                =  38.77  Lts

———————————————-
TESTIMONIALS
———————————————-
G'day Muzz,
 It must have been four years ago that I bought a custom SB off of you, my very first brand new board. Since then that board has been with me for every onshore, every offshore, every dawn patrol, every sunset session, every ding, every hold-down, every turn and every barrel. I've watched my mates move from board to board to board, snapping this one, getting sick of that one's paint job, independently driving the buy/swap/sell sites with their rejects. I've lost count of the amount of times I've heard, "are you STILL surfing that thing?" but why would I get rid of a good thing? Needless to say, living in a surfing community and growing up with salt water in my blood my first board was always going to be a big deal, but I never thought I could have been this happy with it.
Thank you, not just for that initial stoke of unpacking my first custom, waxing it up and taking it out for the first time, but for the stoke that I feel every single time I take the Bullet off the racks and hit the brine. 
Keep up the amazing work, you continue to be one of the leading figures in shaping today and I couldn't be prouder to be riding a Bourton.
Geordie Cameron
6'8″ x 21 x 2.916 SB
———————————————-
Murray,
You made me a  bullet about 18 moths ago. The board is great. One particular difference from any other board I have surfed is how far forward
I can stand when trimming around white water water sections. It is extraordinary. I  move really far forward and the board just planes. 30
years of surfing is telling me to move back to avoid nose diving I don't and no nose dive. The benefit is very positive trimming , no loss of speed that
usually occurs when crouching further back and trying to get past white water. Over the years I have lost squillions of waves from not being able to
get past the crumbling section . Making 80% of waves I would not have in the past.
Regards
Tim Blackall
————————————————————
Hey Muzz,
first surf today on the new 6'3 silver bullet! Maybe you saw the Rip Curl Pro today, glassy 6 foot at Bells… I headed to a smaller spot not too far away, clean 3-4foot waves. A bit crowded, but cought a couple nice ones. Board does exactly what it should: it's still easy to paddle, fast on take-off but more nimble and manoeuvrable than my 6'6 fat bullet. Still feels on rails, really solid when doing a bottom turn. I think we found the perfect compromise between a good wave catcher and more manoeuvrability. In short, I'm stoked and looking forward to progressing my surfing with the new board, in the same way I did when I got the last bullet a few years ago! Thanks again, the whole process was uncomplicated, fast and the board is exactly what I was after!
Xavier
——————————————————————–
Hi Muzz
My 62 silver bullet you shaped for me is perfect. 
I reckon it has over 20% more paddling power. 
Its feels great under foot, very responsive and fast.
 
I took it over to Bali and surfed everything from 2ft legian beachies, 6ft Ulus, 6-8 ft Balian and this happy snap below is at 4ft Canggu. I didn't need to ride anything else. I had no problem paddling into waves, I even paddled into a few that i normally would miss as my old board would not let me.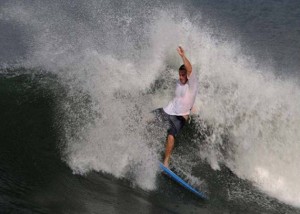 I took it out last week in some of the big Southerly swells we had here in Cronulla. It was probably 6-8ft. She paddled in really well,  the waves were breaking really fast and she handled quite well.
The waves had heaps of speed as it was low tide so it was hard to hold a line.
 
Thanks Muzz you have crafted a quality board that has everything i was looking for.
 
Regards 
Very satisfied customer
 
Darin Lane
———————————–
Hey Muz,
 Just wanted to thank you for the awesome silver bullet. I'm not crash hot but they respond the way you designed them to. Nice one!!  Reece.
———————————-
Hey Muzz,
Just thought I'd let you know I'm pretty happy with the 6'1″ silver bullet you sent down to Melbourne for me a month or so ago: Paddles in well, it's super fast off the line and seems to pick up speed in tune with the wave meaning less jerking around and pumping of a thruster. On the cleaner face waves it seems to stick like shit to a blanket weaving along the face esp. when the face steepens. Pulling much further round on cutbacks without washing off speed. Prolly not as good as a thruster off the bottom but at this stage I think (for me at least) the benefits of the quad outweigh this. Bit of a cork to duckdive but paddles fantastically so I guess that's the tradeoff with the volume. Great looking board with the green rails.
Overall I'm stoked and loving it and will keep trying it out in a range of wave sizes (2-5 ft so far). Already thinking a skinny may be the next thruster replacement! Airmail transfer and pick up was sweet. No probs, no dings all very smooth process. 
Cheers mate
Andrew  Kramer
———————————-
 I have to say that i am so happy with my new board. it was such a good idea to talk with you about where my surfing is at and the kind of boards I have been surfing. it's obvious that you took all of that in and from your wealth of knowledge and experienced made the board just right for me. This 5'10? x 20? x 2 7/16? silver bullet is taking my surfing to another level. it's a blast being 60 years old and throwing this board around. Thank you heaps. Peter Eicas from byron bay. 
———————————–
Morning Murry . I tryed the Silver Bullet out yesterday at Jakques Point  , in 3 to 5 foot clean waves , Its the Best surf i have had for a long time , i found the board very loose and fast , so much Fun , Made me feel like i was …27 years old again , and you know iam 56 ….. so much Fun …Thanks for making my surfing fun again …..worth every cent ….Talking to Bridget Carter yesterday …about Jessies boards , Carter Kids are ripping ..I took Coddie ..Jessies brother to the Bluff and Gnarloo on this first surf trip up there , had a great time ….Love the Bullet ..
 Thank You
 Craig Howe
 ——————————–
Hey Muzz,
 Feedback on the 6'2? Silver Bullet
 Thanks for the board Muzz I'm frothing like a grom over it… I surfed all weekend in average 2-4 foot waves and was smiling the whole time. I'm stoked!
 The measurements were right on. It paddles well, catches anything with the hull & the width through the chest, surfs top to bottom, on rail, and is easy to pull around. The quad is insanely fast and the round tail is smooth through cutbacks and easy to push vertical up the face. For me a crucial test of a board is how it responds through a forehand cutback. This board got up on rail, bit hard, pulled around easily and squirted back out with speed to burn! The round tail quad combo works for me!
 It's Australia Day tomorrow so I'll be on it first thing outpaddling the groms and smiling my head off! Getting on a new board that goes from the first wave is a great feeling. There's nothing I would tweak at all. You've got me thinking about a Fat Bullet for crappy waves & a Skinny Bullet as a step up board. Just let me sell a couple of 'old' thrusters to make way for the new quad quiver!
 You've blended the width & flat rocker with the rail & bottom shape perfectly. I'm so stoked that a board this wide and flat surfs so vertically! For me it's a perfect blend of speed, vertical capacity and looseness… As you can see I kinda like it.
 ps. I'm using the FCS TC aqualine fins – big base small tip – and they work real well for me in this model.
 Cheers
 Glenn
 ————————————
Hi Muzz,
 I thought I would finally give you some feedback on The Silver Bullet (Oct 2010) and The Fat Bullet (Dec 2010) I ordered as Customs.  Firstly I love both boards, both are not 100% stock. You fine tuned the rails on The Fat Bullet and The Silver bullet is a  6? 5? and a little narrower than stock size, both have a five plug system.  These are my second set of bullets  I have had from you,  and you have nailed the changes I asked for in both boards.
FAT BULLET:
 6'2? x 21 x 2 9/16ths is a great paddler, very easy to surf on.  The board is very manouverable and picks up speed easily  and is very fast (particularly as a quad).  You lowered the rails from a stock boards which has given my board more bite in bigger surf but still enough volume so it dosen't easily bog in small surf.  It's a great allrounder that is perfect for surf in the 2 to 4 foot range.  The board works both as a thruster  and a quad.
SILVER BULLET:
 6'5? X 20 1/4 X 2 9/16ths is one of my favourite boards you have made me in the last 20 years, as you know I ordered it for Straddie mainly and for when it's 4+ foot elsewhere.  The board is so solid under foot and feels very secure when taking off late.  Again it is a great paddler and it flys and is easy to surf.  The board again works really well as both a thruster and quad which make it very versatile.  Next time I order this boards I won't make any changes to it.
Both boards are beautifully glassed and finished and I am 100% happy with both, so thanks again mate,
 Glen.
—————————–
G`day Murry,
 Thought i would let you know how the new board went. To be straight to the point feken awsome!!! Got some chunky waves on friday on the east and was a good size to get a feel.I found it to do exactly what i had imagined, and exactly what you said.
 It was a funny day as a few of us headed up the coast and one of the fellas Paul Durack (from west Aus) just happened to have been riding your boards for years so we were obviously exchanging comments and foaming at the mouth the whole day. Mind you there was a fair bit of piss taking comming from the other boys with us raving on. As we said to them they do not know what they are missing!!
 Its ironic you know as 2 of the buggers after taking the piss all day had the hide to ask me to forward me the link to your web site. A few converts in the making maybe.  Any way, thanks again and look forward to ordering some more beasts in the future.
 Cheers Justin J
 ———————————-
The Silver Bullet is an awesome all round board. I would recommend the board to any intermediate/good surfer. I've been surfing for around seven years and in my time have gone through a fair count of boards. At the time of buying the board I was a bit skeptical about the design (notably the major concave through the middle). Willing to try something different I bought it anyway. It turned out to be a great choice. The silver bullet is far and above the best board I've ridden, well suited to the SE QLD beach/point break waves in the 2ft to 5ft range. The board is fast and responsive, and has helped to improve my surfing considerably since becoming my main go to board in my quiver. Give the board a run if you get a chance, it'll take a few waves to get used to, but once your in sync with it you woun't look back!
Chris Huxley
—————————– 
Muzz,
Now am back from Bali I wanted to give you some feedback on the silver bullet (6'0" 18 ¾  2 ¼) The board went so well at Ulus!  It felt like it was built for that place, I surfed Temples on it mostly as I could not be bothered with the crowds at the other end. 
I used the little mini keel (the deeper one) a few times, when I think the board may have gone a bit loose it just had that extra bite and helped me drive through. 
It definitely had more drive off the bottom with the mini keel added, just seen a few photos and they show the board driving round sections I would have normally given up on. 
Now with the Silver Bullet at (6' 0") and the Brooko Mk2 (5'10) I have a great combination depending what waves I am surfing, the slightly more pulled in tail on the Silver Bullet just seems to love those powerful reef breaks and I'll be using the Brooko now more on the beachies or when I surf something smaller. 
So long as we get some good winter swell I will be set with these sleds!!!
Thanks again.
Nick
PS The 6' 8" skinny bullet you crafted me also went really well….used that at Impossible's when that bit of swell was around….went really well when picked off the big ones with a solid wall!
Nick Mackenzie