Latte 1980's – Chappy Jennings channel thruster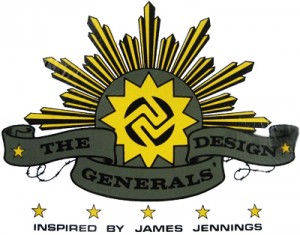 It has been probably nearly 15+ years since Chappy walked away from the pro tour and already there is a generation coming through that have never heard of him: so as far as I am concerned, this is all the more reason to include what the little general rode in my retro range.
James (Chappy) Jennings was perhaps the most heralded of my team riders and was probably best known for his role in "Kong's Island"- a film he starred in alongside Rabbit and Gary Elkerton, where he was seen as the charging Grommet amongst the older and more established surfers.  When he was in G-Land filming with McCabe, Lopez and Kong he was the little grommet who was making all the right calls, so he was dubbed the "Little General" and it has stuck with those close to him since then.
This was the channel bottom era. Kong was having a lot of success on them as well as Chap and they became a very accepted bottom design in QLD, particularly because of our long, hollow clean point breaks – perfect environment for them.



This board I have selected to represent this era is 6.2 x 18 ¾ x 2 5/16 perhaps a little wider than what Chappy rode,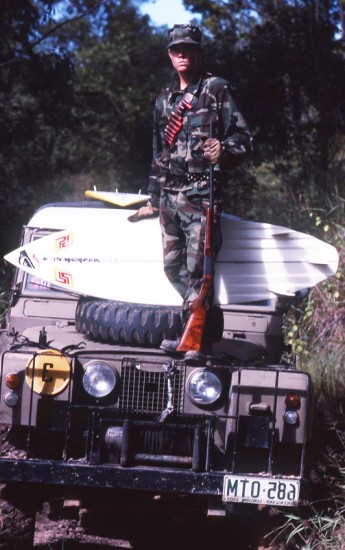 nevertheless, the rest of the DNA is authentic and in many ways still current for those who still love the channel bottom grip and drive.
A forward concave and a tail vee in the channel area was what we did in the day. These days some shapers run channels right through tail concaves but I reckon that is over- bight! The tail is what I call a cornered squash which had the bight of a corner and the flow of a round tail.
Due to the bight of tail channels I have always thought that a flyer should be there to exhaust the channels trapped water. Without they over cling to the face and in turn stiffen the board rail to rail. I also liked to have some decent bottom curve where the channels were deepest , again to combat the negatives that channels can create.
The centre channel would fade out of the tail rather than run out deep like the two outside channels. The reason for this is that it would if gouged out the rail as deep as the others, it would not allow the tail let go unless you continually stood over it.
There is indeed an art to keeping a channel bottom free, and all those tricks are in this model.
If you like the point surfs up our way or you go to Indo regularly this model may have many functional usages for you. As I said the typical clinker channel bottom has not been advanced for a long time and is in my opinion a perennial.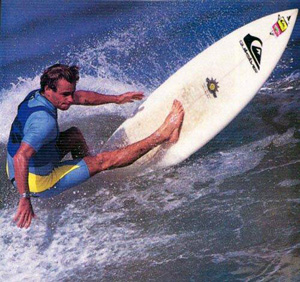 This day Tom Carroll borrowed one of Chappy's channel bottoms when the waves got big in Hosegor. He succeded in stopping an unbeatable run by Tom Curren and it was the fist time he had ridden a channel bottom. He was friken lucky it was one of mine!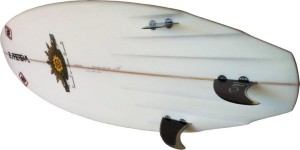 Hi Muz,
When you told me that you were designing a Retro Chappy Jennings board I was stoked! I wanted to be the first to ride it. When I was growing up, Chappy Jennings was an idol of mine and to be associated with this project would be awesome.  On this day surfing at the Clovelly Bombie, I caught some of the best barrels with this Chappy Jennings board.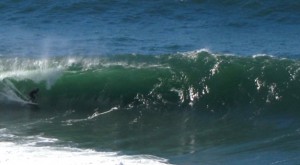 The 4 x 4 x4 diagonal glassing held up really well on this day. As you can see it's a heavy wave. When I rode this board, I found with its six channels, it was fast, loose and gave a squirt feeling. It was very responsive!  When it came for tube riding, the board was like a bullet.
Thanks Heaps Muz!   Love Your Work!
Pat Saunders
Sydney