" Father to the Little Pinger" I made this board off the back of the success of the original 5.9 Pinger I made myself a few months back. I thought it would be a stretch me riding a 5.9 but besides the first session I got used to it pretty quick and found that it paddles as well as my 6.3 Zappa poly.



The tail was very wide particularly for me (have skinny feet) and when I first surfed it with the normal quad set up – bigger fins up front and smaller in the rear, I could not get enough projection out of it – so I swapped the bigger fins into the back and smaller ones up front and it came alive. I then added a nubster low profile keel and it went even better.


It was clear to me to ride wide tails any good you have to be a gorilla which helps you hold that tail down long enough to get a reaction. The fin swap just allowed me to go back and sit over those alpha rears and push off them and the front fins fell into line and stopped the board from feeling too much like a Twin Fin. Perhaps the tail was that little bit too wide but I did like the feel nonetheless.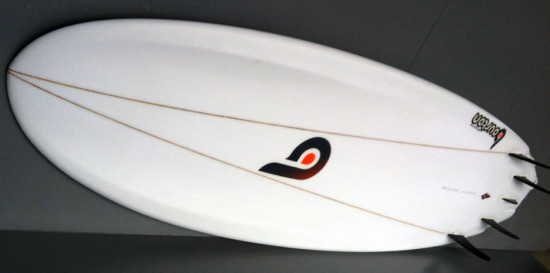 The Father of the Little Pinger should be the correction I need. I stretched the little one from 5.9 to 6.0 and added a pinch more tail rocker but left the nose entry the same (pretty flat) so I could maybe challenge some of those log riders that seem to be breeding like rabbits and getting even younger and hungrier. I am hoping that I can get the fin set back to normal since the tail is narrower but we will see.
DIMENSIONS 6.0 X 21 3/8 X 2 5/8
Fused Pellet polystyrene Diagonal stringers