The name for this little afterthought came out of nowhere. After shaping the tail in and standing back and having a good look, I thought there was something rather biblical about the tail shape, so I called it the "Creeping Jesus".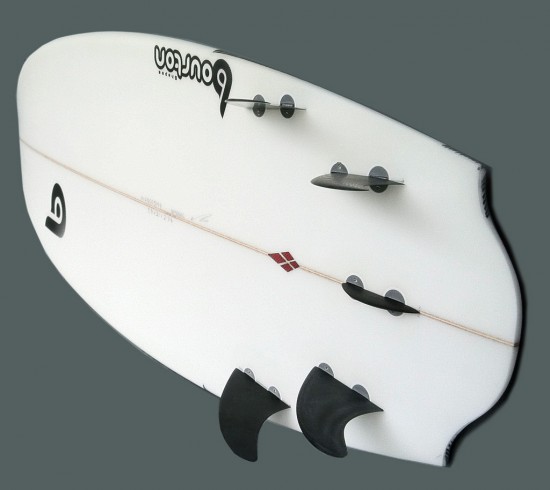 Some might say it is an exaggerated Lost Rocket tail – which it probably is, but that is not where it came from. I like a tight corner and I also like the flow of a round tail and this is an attempt at putting the two opposites together and seeing what happens.
For this design I went to my most popular fish which of late has been the Little Zappa, and worked off its successful DNA which was its rocker, lateral bottom shape and to a lesser degree its plan shape.
I then set about changing its plan shape mainly in the back half so as to accommodate this weird tail. The nose area on the little Zappa was just right but the back half needed to be straightened out to emphasis the abruptness of the corner which in turn then needed to be softened by the kindness of the round tail component.
DIMENSIONS 5.8 x 21 x 2 7/16   Vol = 32.6 lts
This design lends itself to a quad set up but these days there are many bigger guys going really short and in this case it could be surfed as a thruster quite comfortably in smaller waves.

The straightish outline into the tail helps it hug the face as a thruster and helps give it reach as a quad. The round tail component will help it screw off the top. All in all this little Creeper should be a blast in anything up to 3 feet as a thruster and 5 feet as a quad