THE LITTLE POLLY ZAPPA
After the success of the Scarper model I needed to give Mitchells V2 idea a run on the little Zappa which was a model that I have ridden regularly. I shaped it out of a Core Fusion fused pellet blank so I dropped the rails down a tad and applied the same construction as the scarper with the BDX glass and carbon taped up tail. Also used my favourite Power Base boxes so I could alter the arc by shimmying the rear fins.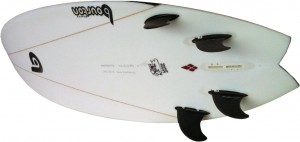 The board sat around for a while until the right test waves appeared and that had to be on a weekend. We all know what the Super Bank is like on a weekend, there were 500 guys out at 5.30 am and it was a bloodbath. Regardless I threw myself into the maelstrom on the little Polly. Have not felt that much ping through a turn ever, and after the session I was left wondering was it Trotters ceramic power base fins, the diagonal stringers or the carboned up stringer less tail? I am still wondering, but odds are- it is a combination of them all.
By the time I had had my fill that morning I was sporting some collateral damage sustained from a picket fence of flesh that refused to yield as I threw myself down the face. Two fin slits in the bottom almost right through to the deck. This occurred early in the peace of a 2 hour sesh and when I came in I baked it in the sun for a half hour then filled them up with an epoxy mix. The board had not sucked in a fricken molecule and the next day it was as lively as the day before.
This new medium is an exciting new medium for me and as I have said previously it is only because this foam seems to fit in between the PU and the more aerated forms of polystyrene.


Add to that it has the same custom ability as PU since it is fabricated exactly the same way- machined, hand finished then laminated and sanded. There is more labour with epoxy resins as there are a few extra processes in between, nonetheless it is not that much that it has to be outsourced to Asia.